The fourth trading period of the European Greenhouse Gas Emissions Trading Scheme (EU-ETS) will start on 01.01.2021. Plant operators can submit applications for free allocation to the German Emissions Trading Authority (DEHSt) in the coming months. DEHSt announced the end of the application period for the allocation procedure in the Federal Gazette of 14 March 2019. Applications for free allocation can be submitted to DEHSt until midnight on Saturday, 29 June 2019.
With the entry into force of the amended Emissions Trading Directive (EHRD) on 14 March 2018, the EU published the basis of the amended framework for the free allocation of emission allowances in the years 2021 to 2025 (first allocation phase) and 2026 to 2030 (second allocation phase).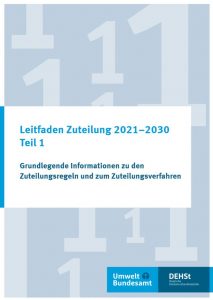 DEHSt again provides plant operators with assistance for the application procedure. The comprehensive guide is published in seven, thematically separate parts.
Parts 1 and 2 as well as the three-part Part 3 of the guide are available for download on the DEHSt website.
Part 4 of the Guide, which contains guidance on the verification of allocation requests, will also be published in due course.
Part 5 of the guide is expected to be available at a later date.
Overview of the topic-specific division of the guide:
Part 1: Basic information on the allotment rules and the allotment procedure
Part 2: General allocation rules for existing installations – Guidance for the preparation of the application for allocation
Part 3a: Special allocation rules for cross-plant heat flows – specific data requirements
Part 3b: Special allocation rules for process emissions and residual gases – specific data requirements
Part 3c: Special allocation rules for the application of product emission values – definition of the balance limits and specific data requirements
Part 4: Guidance on verification of allocation requests and emission update data
Part 5: Allocation rules for new entrants and allocation changes – Guidance for the preparation of the annual operational notice
The seven-part guidance document for the current trading period from 2013 to 2020 is also available for download in full from the DEHSt website.