Almost 40 participants in person and online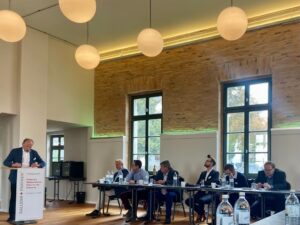 We are pleased that at our GALLEHR+PARTNER® Symposium 2021 on the hot topic of "Climate as a competitive factor in corporate strategy" almost 40 people, including representatives of well-known companies such as Agrarfrost Holding GmbH & Co. KG, Bertelsmann, Inc. , Etex, Frankenguss, Röhm, tesa or Shell participated both in person and online.

Experts were able to discuss the path for industry to climate neutrality in depth and breadth
A big thank you to the subject matter experts Erich Oberfichtner, Sebastian A. Fairhurst, Wolfgang Bläsi, Christoph Barth, Kristina Jeromin, Philipp D. Hauser, Dr. Andreas Gabler, Holger Tabke, Jochen Buser, Dario Pabst, Stefan Küster and Werner Hecker for the interesting contributions, which enabled us to fully illuminate and discuss the topic.
Together, we were able to show ways in which companies can assess the opportunities and risks of the challenge of climate neutrality and retain their competitive edge even in a climate-neutral future or profit from the challenge.
The feedback from the participant Martin Beckmann, from Verico SCE makes us especially happy:
"Very well prepared event, with new format, choice of topics, speakers, comments and discussions, it was absolutely worth it for me to attend in person. The entire spectrum of industry in the transformation to aCO2 neutral future in Germany in the European context of the Fit for 55 program: View from a regulatory perspective and from the perspective of the banks financing the transformation, etc., presentation of industry lighthouse projects, terrific dinner speech speaker to the conclusion covered from the soothing perspective of an experienced business consultant. Lots of "fruit for thought"… By the way, Sebastian Gallehr with his great GALLEHR+PARTNER® team chose a really very good location: Beautiful small hotel with a relaxing view of Frankfurt. Will be very happy to come back on such occasions!"
With this event GALLEHR+PARTNER® was able to substantiate its claim to be the pilot for the industry into a competitive and climate-friendly future.
We from GALLEHR+PARTNER® can state that we had a great time and many highly interesting discussions and thank you for the insightful time.